Kids Birthday Party Place in Bay Ridge, Brooklyn
"My Daughter's 6th Birthday Party was Amazing! Alla and her helper's Attention to detail are impeccable! Excellent with the kids! Every Kid including my Daughter LOVED IT!" – Ira Silver, Facebook review
Exciting Art or Craft activities
We are unique and affordable Kids Birthday Party Place in Brooklyn. We offer birthday party packages with fun and educational activities like canvas painting, ceramic or plaster painting. Check our unique offering – making mosaic from natural material. All the artwork immediately available for kids to take home.
We take care of everything
You will enjoy the whole experience so much more when you let us handle everything and remove the stress of planning this fun-filled event.
Personalized service
Owner of the studio make sure each child get attention and all the guests and parents enjoy their time.
Recently, we had our 6-year-old's birthday party at Art Fun Studio. Wow, was it awesome! Not only were the owners the most wonderful hosts, but the artistic concepts taught to the kids were amazing too. Patience, focus and excitement were all clearly present in how they hosted the party. They also took pictures of the party with a professional camera, which they shared with me! This allowed me the free time to circulate during the party and really enjoy the guests' parents. Excellent party from start to finish!

Booked a party for a kids birthday party and had a great experience. Nice, helpful and energetic owner named Alla was super responsive via email and party turned out well. If you book just one room, just note that the space is narrow so it's.vit tight for the adults standingg around to chat. Nonetheless, great value and experience

I am so extremely happy that my husband and I decided to have our daughter's 1st birthday party here at Art Fun Studio. This truly is a gem! The whole process, from booking the party to the day of the event, was so easy and straightforward. My daughter became ill a few days before her scheduled party and Alla was so thoughtful in helping me reschedule the event. Alla and Eugene were absolutely amazing the day of the party and so helpful throughout the whole event. The kids in attendance, and the adults, all had a great time and loved the space. There were so many little touches throughout the party that made everything so special for our daughter. I definitely plan to have another event here in the future.

I recently planned my daughter's 5th birthday party here and chose the small canvas painting along with a ceramic painting package. To start the parking was difficult (for me and guests) even with paid street parking on the main avenues. Upon arriving to the place, their main sign was posted outdoors with my daughters name written on it so no one could miss it (this was a nice touch and I appreciated the sign). The painting activities and party was everything I thought it would be and fit close to 20 people comfortably for a smaller place. It was homely and the kids had the opportunity to use their imagination and be creative. For some Alla may come across as rude when she is making suggestions on the paint and what to do or not do when painting. However, I saw this as a passion for her business and her love for art. It was not viewed as rude and the kids were still able to stick with their ideas, even with suggestions. I would highly recommend art fun studio for a party and I will also be planning to come back for an adult sip event and/or a quick painting session with my daughter.

I love this place. I was looking for a art studio last minute for my daughter's birthday and found it on the internet. The instructor was very great with the step by step instructions. Everyone painting came out so great!!I would definitely recommend it to my friends and family.

My daughter very excited after visiting this place! We were there on friend's birthday and Halloween party. Thank you, Alla!

We had my daughter's 5th birthday party here. It was a great experience from beginning to end. They went above and beyond for us. So much fun! We would definitely have another party here.

We booked our daughter's 6th birthday party and had an amazing time. The facility accommodated all of our little guests and parents. Alla was a great host. She takes care of every single detail from canvas/ ceramic prep, decoration, food and drinks, music, and PROFESSIONAL PHOTOS! Very impressive. Our guests were very pleased! Highly recommend!

We celebrated our daughter's 10th birthday here recently and it was fabulous. Everyone had a good time and Alla was very accommodating. Alla provided everything and she even takes good quality photos of the event. The only thing that you must provide on your own is the cake, but that is nothing compared to what Alla provides.

I had my son's 5th birthday party here and it turned out great! All of the kids got to chose between either a small canvas or a ceramic figure. Kids had a blast painting followed by pizza and juice. Prices are reasonable. Alla the owner is wonderful and very friendly. Would definitely have a party here again

Our son had his 5th bday party here, and it was fantastic. Alla so clearly loves what she does, bringing a delightful creative energy, and she's terrific with kids too. I was really surprised to see a bunch of 4- and 5-year-olds focused on painting ceramics and canvases for at least half an hour. It's also a great space, and Alla and Eugene made sure everything ran smoothly, so that once the party started, there wasn't much we had to worry about. Highly recommend Art Fun Studio for a birthday party!

Had my sisters 10th birthday here and it was Amazing. The staff is grat and very friendly and helpful. We had such a great time. Will def. have another event here again.

I absolutely love this place!! I had my daughter's 10th birthday party here and they were amazing!!! I would highly recommend this place to anyone for any party or just for fun!!

Just had my son's 3rd birthday party here and it was an awesome time! Surprisingly even a bunch of active 3 and 4 year olds were really engaged in the artistic process to the very end. Alla masterfully led the entire experience and everything ran smoothly and well organized, as well as really fun even for adults. Alla and her assistant took beautiful photos throughout and it was a huge bonus to have that as part of the package. Everyone still tells me how good of a time they had. Highly recommend!

Alla and her team made my daughter's 6th birthday celebration truly a dream come true! We had such a blast (the children AND adults)! They wouldnt even let us lift a finger, insisting that we truly enjoy the moment. The place is beautiful, great for photos. Speaking of, the many photos they took, top ours BY FAR. So glad they sent me those to hold near and dear. Definitely recommend!

My daughter's birthday party there was amazing. Very friendly staff, positive atmosphere and a lot of fun. Thank you Alla.

Just want to say that Fun art studio is GREAT!!! My daughter just had her 10th birthday party and all our guests from 2 till 14 had a blast!!! Will definitely come back as a walk in.

I had my daughters 11th birthday party here and she and her guest had a wonderful time. Thank you again Alla and staff for making us happy and satisfied

I had my daughters 9th emoji theme birthday party. Alla was understanding kind and treated us well. Very professional and helpful. Thank you see you soon.

By far the best Sip n Paint experience I had. The employees were so welcoming, engaging, full of spirit, and made sure that everyone got all the help they needed. We were allowed to play our own music so the room was full of good vibes and great energy! It was my friend's birthday and they surprised us by putting up Happy Birthday signs and a wall with her name on it. It's the little things that count. Definitely recommend and will be visiting again.

Artfunstudio was amazing! I celebrated my birthday with my friends and family. It was an amazing experience that I would do over and over again! Definitely recommend. Alla was great!

Great local place for a birthday party or just a rainy day activity with your kids. Owners are welcoming and accommodating. My son likes space and rockets, but they had no space themed canvases. Once they learnt what we like they made a very cute rocket and planets canvases for our next visit.

The art fun Studio organized a lovely birthday party. My daughter enjoyed a lot!

Celebrated my sisters birthday here this weekend and we all had an ama omg time. Alla was the instructor and her husband helped out. They were so sweet and courteous. She was very encouraging and made this experience a lasting memory for us. We brought our own drinks and food but they provided all the plate ware and utensils. They also had the music we liked to listen to. She took pictures and captured ever moment for us. It was a great time. Will definitely come back to art fun studio. It also looks like a great place for the kids. I would definitely recommend this place for a party or just to take the family there. Thanks Alla! 😊

Had my daughters birthday party here last week. What an awesome place! Everyone is so fun and personable. The kids had a great time and Alla is a blast!

Alla hand traced our original rather complicated artwork for each canvas so beautifully. Kids (mostly 5 or 6 year old) were all so focused when they were painting and were so happy and proud with their result after one hour of painting. Great birthday activity! Thank you!

We recently had our daughter's 3rd birthday party at Art Fun Studio, in Brooklyn, and we had a wonderful time. Alla the owner, was fun, enthusiastic, patient with the children, and helped the party run smoothly and stress-free! My daughter and her friends loved that they could each paint their own artwork and take it home with them too! Thank you Alla for making my daughter's birthday party a special one! Cynthia

Art Fun Studio is just wonderful. had a great time having my moms birthday there. Owner of the studio, Alla is wonderful and was accommodating in anything we asked for. Her staff is amazing. i would highly recommend this place and cannot wait to go back.

This place is amazing. You can relax and enjoy with your friends and family. I celebrated my birthday with my girlfriends. We had a great time. Alla is wonderful person. She is the great host. Very recommend this place to everybody.

My daughter had an AWESOME 10th birthday party. Thank you Alla and Eugene for helping to create such a special day!

I highly recommend this place for any occasion, we celebrated several kids Birthdays here and also had an adult Brush and Brunch recently. We all loved it, everything went smoothly, the place is really lovely and the owners are very accommodating. Everyone from our company wants to go there and paint again! And look at the cool art we made!

Had my daughter's 6th birthday here and I can't believe I hadn't seen this place sooner, Alla and Eugene set up a wonderful party for my daughter, the kids couldn't have been happier. I will definitely be back.

I can't thank Alla and her husband enough for the thought and care they put in to make sure my daughters 8th birthday party was a success! Everything was so organized and they were so paitient with the kids. I would 100% recommend art fun studio and look forward to having my next event there. Great job Alla and crew!

i recently had my 4 years old's birthday there and could not be happier with the way it turned out. The kids had plenty of options to choose from and they were excellent on explaining what to do. All of the kids had smiles on their faces the whole time. i will definitely go back again

I just celebrated my birthday here last night and all I can say is it was a PHENOMENAL experience! A HUGE thank you to Alla and Eugene for hosting myself and my girlfriends!! We thoroughly enjoyed ourselves!!! Alla and Eugene are extremely kind, patient, and accomodating. They helped to ensure that EVERY detail of my party was PERFECT and they let me personalize the experience for my guests in so many ways! If you are going to do a Sip and Paint, you must do it here. Everything was PERFECT...Thank you Alla and Eugene for everything! 💋💋

We had our daughter's 7th Birthday Party here for 15 kids ranging in ages from 3 to 8. It was perfect. All the parents were nervous about the potential mess but there was nothing to be worried about. Alla is super helpful and friendly. She takes care of EVERYTHING except the cake.

We just had our party here today and it was a great experience. My son said this was his birthday yet. The instructor was patient with kids a different ages. I would definitely go there again and have another party there. I plan on doing a paint night with my friends there. Thank you for making my sons birthday special

I recently had my daughter's 9th birthday party here with her classmates. Mrs Alla was just wonderful and the children enjoyed themselves so much. She provided much excitement in the paintings and art. Totally recommend for any age for a party. Just memorable.

I came here for my daughter's birthday and she loved it here! She's already asking me when are we coming back! Very friendly and helpful workers! There are lots of choices to choose from to paint. We will definitely being going back.

I celebrated my birthday at Art Fun Studio. My guests and I had an amazing time. Alla was very helpful throughout the planning process. She has great energy as well! Do not hesitate to host your event here. Alla will make sure you have a great time! Highly recommended.

This is the 2nd time I have spent the evening at Art Fun Studio and again, it did not disappoint. Alla is so talented and so dear. She is attentive and encouraging and you leave there not only having a great time, but with a beautiful piece of art. I intend to go often, with my children, on more date nights with my husband, and to celebrate birthday parties. What a great addition to Bay Ridge.

We went to Art Fun Studio for a toddler birthday party. It was more fun than I could have imagined. There was a diverse selection of pieces to paint--canvases and ceramic items. Our son is 2 years old (25 months) and had a blast painting his train 'piggy' bank. It was a pleasure to watch him and be part of the experience for him.The owners were extremely friendly and seemed to be having as much fun as we were!Highly recommend.

Held our daughter's 10th birthday celebration at the studio. All guests, boys and girls, enjoyed the mosaic. Alla took our ideas, gave suggestions, and and prepared an amazing turtle template! The finished products were unique, reflecting kids' personalities. Alla provided individual attention to all the guests. Professional photos were included to the package, we got them the next day by amazon prime photos, all ready to download and print! Thank you, Alla and the team!

We celebrated our daughter 's 6th birthday at ART Fun Studio. Alla and Eugent had done a tremendous job during the party. Alla explained the kids how to paint and how to fix their mistake on their art works. She ordered the pizza and prepared the juice/water to the kids and the parents. She took a lot of beautiful pictures. She coordinated everything on time and well prepared. I didn't need to worry anything. My daughter and her friends had a blast day. At end of the party, the kids can take their arts home. I am highly recommend this place.

We had great experience at the studio. The owners were very patient and helpful in every way. Even the people who had never drown before felt comfortable and successful. Thanks you so much for making my birthday so much fun!

If you're looking for a place to celebrate a kids birthday then this is the place to book. We came here to celebrate my niece 10th birthday and she absolutely loved it. Alla was very accommodating and a pleasure to be around. She made sure everything ran smoothly and was extremely helpful in assisting and guiding us through the painting process. Being that the birthday girl absolutely loves elephants, Alla was also able to provide the children with elephant templates to paint. She provided a sample canvas painting but encouraged the children to freely paint, while she provided all necessary colors and water.The pizza and juice, which were included, were a perfect addition to the party. As well as the amazing photography that was provided so that the adults could focus solely on the children and painting.Overall, I was extremely impressed and highly recommend this studio as your next birthday celebration destination. The studio was spacious and beautifully decorated. And the best part is that you get to go home with your artwork at the end 🙂

My daughter celebrated her birthday at Art Fun Studio with 9 of her friends. All kids enjoyed it. I particularly appreciated how easy it was to schedule, all the wonderful photos Alla took of the kids so I can focus on my daughter, and how affordable it was!

Celebrating my daughter Kylee's 4th Birthday at Art Fun Studio was so amazing!!! Alla and her husband were such a joy to the children. They kept them entertained and engaged in the art work they were creating. Alla's voice is so warm and encouraging. She was such a burst of energy and her husband made sure that the kids and our guests had everything we needed. They took really great professional photos of the party so we got to enjoy every moment. As we were leaving my daughter said to me "Mommy my birthday was amazing" thank you Alla and Art Fun Studio for such a memorable 4th Birthday!!! We will be sure to visit again soon!!

Great party for my daughter 10th birthday! Ally and her husband did a great job putting together an enjoyable memorable experience for the kids and their parents.

We had a great time, and a lot of laughs! Alla and her husband are wonderful people and so accommodating! We painted wine glasses, and really got into it!! Alla made us feel like pros! This was a great choice for a Ladies Night Out birthday celebration! Thanks, Alla! we will be back!

Just wanted to give a shout out to the Art Fun Studio. They were amazing with the kids yesterday(not just mine). Super over the top nice to everyone. Incredibly welcoming, like going to grandma's house to craft! My 2 1/2 had a blast painting a little pottery cat. Art Fun Studio went beyond that though....We were looking for a Santa to give our kids kittens for Christmas. We tried contacting several places but Santa's were already booked for the season. We posted to the to local groups asking if anyone with a suit could swing by our house, but no luck. When I saw Art Fun Studio was having a Santa event I contacted them to see if they could help. They said yes right away and refused compensation for it. They just asked to post pics on their facebook. When I came in they greeted me right away and asked how we wanted to go about it. They were so awesome. They took a bunch of pics, and were as excited about the reveal as I was. I can only imagine that they would be equally as amazing with birthday parties, and making a kids day extra special! I know they gave my kids a day to remember.

Alla and her husband made sure my birthday "Sip & paint" party was memorable. They were very patient and went beyond my expectations. I will definitely be going back for another paint night.

We had my daughter Alice 7 th year birthday at Art Fun Studio! It was hands down the best kid party I have ever hosted. Kids was from 3 to 12 and they all had a good time! Even the adults were happy and had fun too! Thank you Alla for being so personable and making this day one that everyone will remember!

We came here for a paint night to celebrate my birthday and we all had such a blast. Alla was super nice and everything was 100% customizable -- I was able to reserve a private time for just my friends and I was able to select ANY painting/picture I wanted. I literally sent her a google image (which had turned out to be from a famous painter that she knows personally) and she painted it herself a week beforehand. It was a really difficult level and since none of us are actual artists, she had printed out little step by step guides to show us what each step should look like.We were able to order food to the studio and we also brought our own wine and beer. She let us drop off all this stuff earlier in the day so we didn't have to carry it with us later on. She provided glasses and cutlery and everything. They have an iPad that is connected to the studio speakers, so you can either send a playlist to them beforehand, or play whatever you want on Spotify.The best part was Alla's personality! She was so fun and funny and PATIENT with us. She had a lot of positive energy. Her husband was there too helping out and assisting with whatever we needed. They were also taking nice photos throughout the night and sent them to us almost immediately after. We couldn't have asked for a better experience! Thank you!!

I just attended a birthday party here. I must say, I am very impressed with the professionalism of the place. The owner gave constant attention to the children, ensure they are kept entertained, comfortable. This place is a must if you're seeking a cozy, kid friendly atmosphere!

My son had his 2 year old birthday party at the Art Fun Studio. He and his friends had so much fun. The owner went out of her way to help the children explore many different ways of using the paints and painting the canvas pictures they picked out. It was just the right balance of structure and freedom for the kids. Best of all, besides the smiles and giggles, I did not have to clean anything up.

This is an amazing experiment for my children ..i have 10 and 8 years old, they love to be with Alla the owner of art fun studio .. She is a great caring teacher ..they have been learning a lot of art skills from her.. its great idea for birthday parties also. my kids and our guests enjoyed every second of the party with painting .. thanks a lot Art Fun Studio we will definitely come again and again ..

Ceramic or small Canvas Painting Birthday Package ($300 for 10 kids, additional child $20)
Birthday kid and their friends celebrate the birthday with instructor-led ceramic or canvas painting activity. They choose to paint their favorite characters, bringing them to life with color and texture. Music, beautifully decorated studio and family atmosphere make it awesome Birthday bash.
Large Canvas Painting "Sip and Paint" style Birthday Bash ($350 for 10 kids, additional child $30)
During the party, our art instructors will give the children step-by-step instructions on how to use the paint and brushes to achieve the look they want. Parents are welcome to join and learn, too! Art, music, friends, smiles and cake make it fun and memorable event. Good for children 6+ years old.
Deluxe Two Art Works Package ($400 for 10 kids, additional child $30)
Two items to paint per person.  Don't know which one to choose – canvas or ceramic for your child? This package allows you to have both. During the party, kids will paint not one, but two items. Fun, music, pizza all included.
Birthday Fun for Toddlers and their parents. ($300 for 10 kids, additional child $20)
We found a perfect formula to keep toddlers entertained and parents at ease. Bring your kids for a fun experience. In the end, each toddler will create an artwork for you to keep.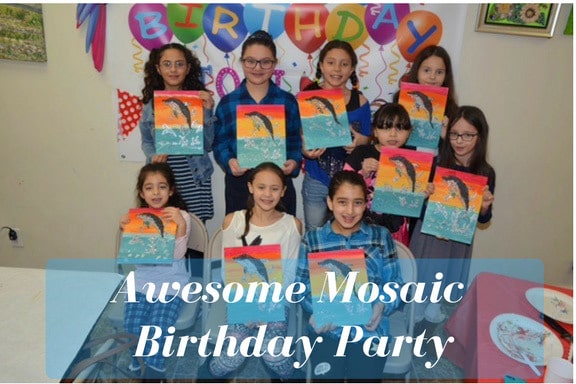 Unique Mosaic Art Birthday Package ($400 for 10 kids, additional child $40)
Still googling "kids birthday party places near me"?   What about unique for Brooklyn mosaic birthday party activity. During the birthday, award winning artist Alla will instruct kids how to create their own mosaic. Kids will be using natural material and artificial crystals to create bright, sparkling and colorful art. Mosaic will be created especially for your birthday boy or girl. Fun, music, pizza all included.
New! Creative Mosaic Party for Teenagers and Adults.
We have created a series of artworks for older kids and adults alike. A bright, colorful mosaic that interesting to do and a great decoration for the home. We will be using acrylic paint, different techniques and crystal to create an exciting design. Check it out if your child 12 years and older.
New! Party to Go!
If you want to organize your party at home, in your own backyard or at park and want to provide kids with painting experience and fun, we are offereing Party to Go! Chooce from our selection of pre-traced canvases and get it shipped to you or pickup at our studio. Everything nesessary for the party provided.
The Best Part About Having Your Party with Us
We make your child's next birthday the best ever!
Beautiful gallery space.
The children will spend the first hour creating the project you have selected and then celebrate in the party room with refreshments and cake.
Personalized party invitations.
Our designer will work with your picture and create personalized and beautiful invitations based on the theme of your choosing.

Pizza and drinks
We provide pizza, juice and soda for the kids as well as coffee or tea for the adults.
Party room decorations and birthday tablecloths.
It's all in the details and we have you covered!
Big indoor Happy Birthday signs
We'll grab everyone's attention from the get-go with our welcoming Happy Birthday signs.
1.5 or 2 hours of fun activities
The perfect kid's birthday party: an art project, food, presents and cake!
Post-Party Cleaning:
That's right! You don't have lift a finger. We've got the clean-up covered so all you have to do is have fun!
A few words from local moms
I love this place, very nice. Birthday party was fun, the kids had a good time. Great place, affordable prices. Professional stuff. Our daughter of 9 was very impressed and wants to go there again and again. Highly recommend.amazing!!!!!
Kid's Birthday Parties & Walk-in studio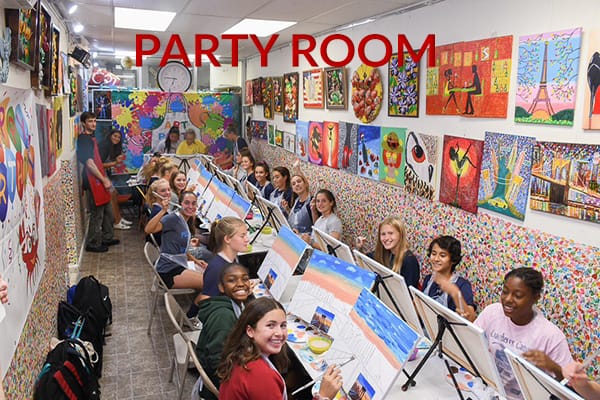 Our Party Room
A delightful space for birthday art activities to keep the children entertained and engaged.
Please call us for a curbside pickup of your order.