Kids Birthday Party Place in Bay Ridge, Brooklyn
"My Daughter's 6th Birthday Party was Amazing! Alla and her helper's Attention to detail are impeccable! Excellent with the kids! Every Kid including my Daughter LOVED IT!" – Ira Silver, Facebook review
"We had my daughter Alice 7th year birthday at Art Fun Studio! It was hands down the best kid party I have ever hosted. Kids was from 3 to 12 and they all had a good time! Even the adults were happy and had fun too! Thank you Alla for being so personable and making this day one that everyone will remember!" -Lyudmyla Kaminska, Google review
Exciting Art or Craft activities
We are unique and affordable Kids Birthday Party Place in Brooklyn. We offer birthday party packages with fun and educational activities like canvas painting, ceramic or plaster painting. Check our unique offering – making mosaic from natural material. All the artwork immediately available for kids to take home.
We take care of everything
You will enjoy the whole experience so much more when you let us handle everything and remove the stress of planning this fun-filled event.
Personalized service
Owner of the studio make sure each child get attention and all the guests and parents enjoy their time.
We offer unbeatable prices and a great fun for kids
Plaster or Canvas
Plaster or 8" x 10" canvas
Price for 8 kids

Each additional child $25

One of the following:

plaster figurine

pre-traced canvas 8″x10″

Pizza

Drinks

Decorations

Table cloth

Photography

Fri-Sun

1.5 hours
Canvas Painting
12" x 16" canvas
Price for 8 kids

Each additional child $30

Instructor led

12″x16″ painting – perfect for 7+ years old kids

Pizza

Drinks

Decorations

Table cloth

Photography -so you can enjoy the moments

Fri-Sun

2 hours
Price for 8 kids

Each additional child $40

Create a beautiful mosaic – perfect for 9+ years old kids

Pizza

Drinks

Decorations

Table cloth

Photography

Fri-Sun

2 hours
Ceramic or small Canvas Painting Birthday Package
Birthday kid and their friends celebrate the birthday with instructor-led ceramic or canvas painting activity. They choose to paint their favorite characters, bringing them to life with color and texture. Music, beautifully decorated studio and family atmosphere make it awesome Birthday bash.
Large Canvas Painting "Sip and Paint" style Birthday Bash
During the party, our art instructors will give the children step-by-step instructions on how to use the paint and brushes to achieve the look they want. Parents are welcome to join and learn, too! Art, music, friends, smiles and cake make it fun and memorable event. Good for children 6+ years old.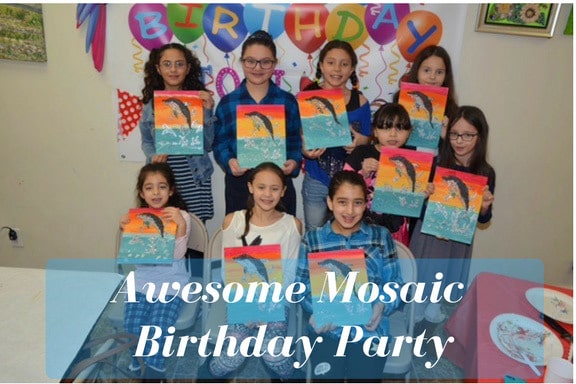 Unique Mosaic Art Birthday Package
Still googling "kids birthday party places near me"?   What about unique for Brooklyn mosaic birthday party activity. During the birthday, award winning artist Alla will instruct kids how to create their own mosaic. Kids will be using natural material and artificial crystals to create bright, sparkling and colorful art. Mosaic will be created especially for your birthday boy or girl. Fun, music, pizza all included.
Birthday Fun for Toddlers and their parents.
We found a perfect formula to keep toddlers entertained and parents at ease. Bring your kids for a fun experience. At the end, each toddler will create an artwork for you to keep.
The Best Part About Having Your Party with Us
We make your child's next birthday the best ever!
Free Professional Photography if you book online.
We understand the importance of capturing these special moments, but we don't want you to miss out on enjoying the party yourself!
Personalized party invitations.
Our designer will work with your picture and create personalized and beautiful invitations based on the theme of your choosing.

Pizza and drinks
We provide pizza, juice and soda for the kids as well as coffee or tea for the adults.
Party room decorations and birthday tablecloths.
It's all in the details and we have you covered!
Beautiful gallery space.
The children will spend the first hour creating the project you have selected and then celebrate in the party room with refreshments and cake.
Big indoor Happy Birthday signs
We'll grab everyone's attention from the get-go with our welcoming Happy Birthday signs.
1.5 or 2 hours of fun activities
The perfect kid's birthday party: an art project, food, presents and cake!
Post-Party Cleaning:
That's right! You don't have lift a finger. We've got the clean-up covered so all you have to do is have fun!
A few words from local moms
I love this place, very nice. Birthday party was fun, the kids had a good time. Great place, affordable prices. Professional stuff. Our daughter of 9 was very impressed and wants to go there again and again. Highly recommend.amazing!!!!!
Jasmin H
We just left Art Fun Studio and are looking forward to many more fun times! Such a wonderful experience and soooo patient with the group of kids we had for a 6th Birthday! Highly recommended!
Rachael W.
Kids Birthday Party Place in Brooklyn (interior)
Kid's Birthday Parties & Walk-in studio
Our First Room
The perfect space for cake, birthday games and more fun (and a great spot for the parents to enjoy the party)!
Our Second Room
A delightful space for birthday art activities to keep the children entertained and engaged
If you have any questions or want to book over the phone, please contact us
OPENING HOURS
Monday – closed. Please call if it's a school holiday.
Tuesday, Wednesday, Thursday – by appointment only, please call.
Friday – 2 pm – 7 pm
Saturday – 11 am – 7 pm
Sunday – 12 pm – 4 pm
We open late for parties.
ADDRESS
Art Fun Studio 547 92 Street, Brooklyn, NY, 11209
This is in Bay Ridge area of Brooklyn, close to the Verrazano Bridge