Mosaic Making Birthday Party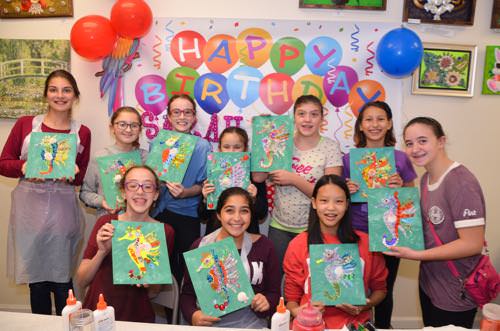 "Just came back from Art Fun Studio for my daughter 8th birthday! You can't go wrong with their price! Alla made our first time experience awesome!! The kids and adults had such a fun time! She even took professional photos for us! Definitely would recommend this place to everyone! Will definitely be back very soon!" – Monsan Chan-Diaz, review on Facebook
Unique mosaic artwork
We will be using natural material – shells, stones, sea glass to create art
Affordable prices - $320 for 8 persons
We happy to host small and big parties. Each additional child only $40.
Step-by-Step instructions
Owner of the studio, award winning artist, will make sure each child get attention and creates a wonderful artwork.
Pizza, Drinks and everything else included
Imagine not having to stress about planning a fun-filled event that doesn't burn a hole in your pocket!
Mosaics are among the most unique and unusual art forms around. Our studio owner has won numerous awards for her artwork and creativity in this medium. Children will create a mosaic out of natural materials such as seashells, stones, seaglass, crystals.
Kids will take home a beautiful, natural and definitely unique item and experience. When we use seashells, we teach kids how to collect seashells in an environmentally friendly manner and about different types of shells and mollusks that live on our shores. Recommended age 7+.
Let us know what you want something different
Unicorn Mosaic. Sparkling with bright colors.
Dancing Ballerina. Great artwork with natural seashells.
Seahorse Mosaic. Very cool and easy to do.
Shih Tzu Dog Mosaic. Great for kids and dog lovers.
Wave-jumping Dolphin. Great artwork with sparkling crystals.
Sea Turtle. Made from natural seashells.
Peppa Pig Mosaic. Great for smaller kids.
Mickey Mouse. Mostly natural shells.
Pokemon Pikachu. Bright artwork with decorative sand, crystals and other materials.
Cat. For elder kids, beautiful mixed media artwork.
Mermaid Mosaic. As well for elder kids, artwork with many natural materials.
Funny Dog Mosaic. Great for all ages.
Sunny clown. Made from different materials. Great fun for all ages.
Butterfly. Super colorful and vibrant mosaic.
Lady Bug Mosaic. Great mosaic project for small kids. Colorful, bright, fun to do and to show friends. Frame no included.
Mosaic of a woman. Great for teenagers and adults.
Another great mosaic for adults and older kids. 
Shoes with a lips Mosaic. Great mosaic project for adults and teenagers.
We have celebrated my daughter's 7th birthday at Art Fun Studio. I highly recommend this place! Great attention to kids! Alla and her husband were so caring, personal, patient, engaging and entertaining! Everything was customized and organized. Kids and parents had lots of fun and truly positive experience!!! I am already planning next event there!
Oksana P.
We make your child's next birthday the best ever!
Pizza and drinks
We provide pizza, juice or soda for the kids and coffee or tea for the adults.
Personalized party invitations.
Our designer will work with your picture and create personalized and beautiful invitations based on the theme of your choosing.
Party room decorations and birthday tablecloths.
Beautiful gallery space.
You'll spend the first hour creating your chosen project, Afterwards, you move to an attached party room for refreshments and cake.
Big outdoor and indoor Happy Birthday signs
Sign to to greet your child and guest and for photographs.
2 hours of fun activities
Art project, food, opening presents and cake!
Clean-up after the party.
That's right. You don't lift a finger. We've got the clean-up covered so all you have to do is have fun.
Package Price: $320 for 8 persons.
Each additional child $40
Kid's Birthday Parties, Walk-in studio
Our creative, stress-free and, most of all, fun party packages will make you look like the parent of the year.
You'll be just as excited to celebrate as your kid.
If you have any questions or want to book over the phone, please contact us
OPENING HOURS
Tuesday- Friday – 2 pm / 6 pm (call for earlier appointment)
Saturday – 11 am – 6 pm
Sunday – please call
Monday – closed except school holidays
We open late for parties.
ADDRESS
Art Fun Studio 547 92 Street, Brooklyn, NY, 11209